FOR TODAY
Outside my window...the sun is shining, it is warm, and the wind is blowing what is left of the leaves off the trees.
I am thinking...about how nice it was to have had my friend Suzanne and her big, Old English Sheepdog, Sam, here for the weekend. I was worried about Sam and the kitties but he did so great. He and Azzy bonded pretty quickly, actually. Chica enjoyed having a canine playmate and walk buddy. I was very happy to have my old friend here. I am grateful for how easy and fun it is to be with her. She helped me lift some of the grey cloud that was around me last week !
I am thankful...that Suzanne was here to lend a hand to David and I with the raking and bagging of the bazillion of leaves that filled our backyard. With her help, we we able to get a huge chunk of the job done !
In the kitchen... left over pasta from Saturday night, and a big bag of apples waiting to be baked into something…
I am wearing...jeans, a long sleeve t-shirt, and a baseball cap covering the bed head. Suzanne and I went with for a walk the doggies before she left just a little while ago.
I am creating...Some pendants for simple necklaces that I will be selling at the West High School craft fair in December. And at least one page in my journal this week, I promise myself !
I am going...to spend time in the studio today and then to my meditation class tonight.
I am wondering...how the family dynamics will change when we bring home our new addition to the family…(more below)
I am reading...this month's Cloth Paper Scissors magazine and I am about to start The Night Circus, by Erin Morgenstern on my Nook.
I am hoping...that our application to adopt our new family member is accepted within the next few days !
I am looking forward to... bringing home the new addition to our family and letting her get to know her furry brothers and sister slowly.
I am hearing...the hum of the computer and the distant roar of the garbage trucks. Quiet Monday morning.
Around the house...things feel pretty quiet and spacious now that big Sam, who weighs a 100 pounds, and Suzanne have left.
I am pondering...when to show you exactly who I mean when I say our new addition !
One of my favorite things...is PUMPKIN !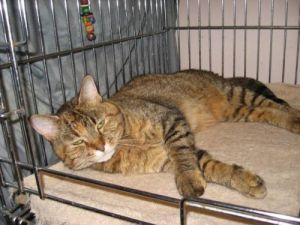 The sweet girl who I fell in love with when I read about her on Petfinders. I visit the site periodically, with the vague idea of adding in a third cat into our family, but with never any real intentions.
I found Pumpkin and showed her to David and have been talking about her off and on for awhile now.
But the deal was done when we went to the Animal Allies shelter here in Manchester yesterday and saw the sweetie in person. She was mushy, cuddly yummy in my arms and snuggled her chin right under mine and I was done.
David, or Dada as the animals know him, loved her too and was influential in us deciding to go for it and fill out an application !
We should hear by Wednesday if we are approved to have her come home with us !
A few plans for the rest of the week: if all goes well, getting the house ready for our new arrival so that everyone can meet gradually. That and continuing with the craft fair stuff will keep me plenty busy, I think !
Here is a picture I am sharing of exactly how I feel today...
Blessed by the bittersweet gifts of life.
*************************
I hope you have a fine Monday, Beautiful Ones !
Big Love !